<기생충> 오스카 4관왕 수상 기념으로 지난해 연말에 진행한 익무 독점 봉준호 감독과의 인터뷰를 영문으로 번역했습니다.
한국어 원문 -> https://extmovie.com/movietalk/52656441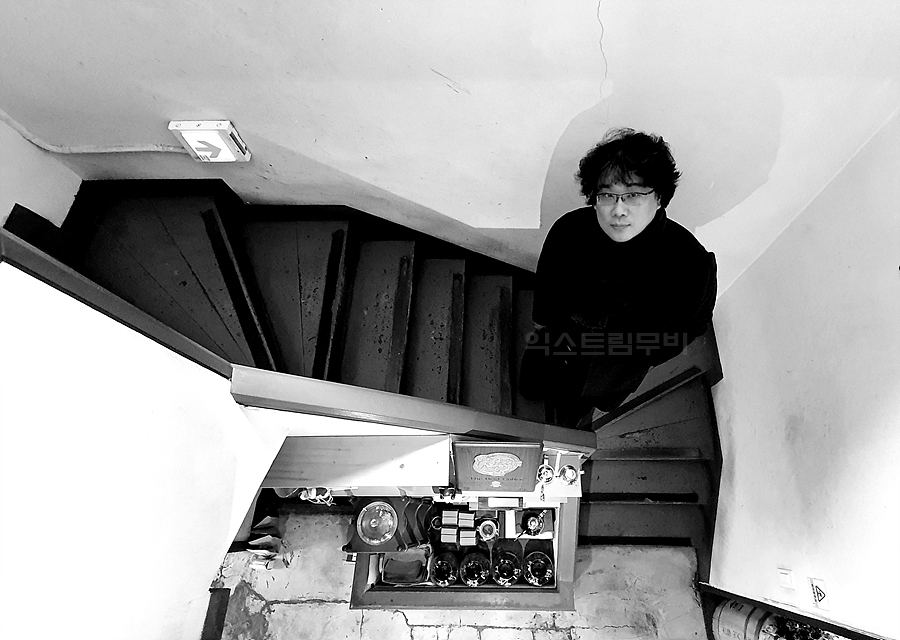 interviewer: Kim Jong-cheol(Editorial Director of Extreme Movie), Lee Yong-cheol (Film Critic), Minah Jeong(Film Critic)
photo: Kim Jong-cheol (Editorial Director of Extreme Movie)
recorded transcript: Han Cheong-nam(Staff of Extreme Movie)
translation: Emily Kim
date: December 23, 2019.
place: Seocho-gu, Seoul, South Korea

It is the third meeting with director Bong Joon-ho; Extreme Movie first met him for Mother, then Snowpiercer, and now we meet him again for Parasite. In the ten years we have been acquainted with Bong Joon-ho, many events have occurred, and 2019 was an especially memorable year for him. A difficult person to meet, we will spare unnecessary words such as, "Thank you for agreeing to this interview." But, even after his status had changed so dramatically he sat before us, his unchanging visage in a smile. It was mystifying and yet gratifying. A few months back, during a short meeting after his return to Korea we joked, "Should we conduct the interview on our knees now?" Though puzzled at first, he fixed his posture to imitate that of royalty and asked, "Then how's this?" It is a challenge to be serious yet delightful at once, but that is how Bong Joon-ho is.
Perhaps because he had been interviewed so many times, the eloquent man had become an even better speaker. It would be easy to be spiteful of people like him; one is bound to look for flaws when the other is perfect in many ways. But the more you understand him, the more he makes you smile. In truth, the meeting that lasted several hours felt like several minutes. We convey our happy hours through these pages.

Q: You must be tired from traveling abroad. How are you getting used to the time difference?

A: I didn't sleep too well. I got used to it but now my biorhythm is messed up again.

Q: How were reactions to Parasite in the US?

A: The American audience was first introduced to Parasite late last August during the Telluride Film Festival. Then after being screened in the Toronto and New York Film Festivals, it was officially released in North America in October. We are collaborating with the North American distributer and promotion team to promote both the release and Academy awards.
The response in North America was—well, very good. I thought people in France were the most responsive to the film, so I highly appreciated the unexpected enthusiasm from North America. It seems they enjoy Parasite's genre construction more. Just yesterday (December 21, 2019) revenue from North American theaters exceeded 21 million dollars. The film placed within the ten most popular foreign films that screened in North America, but as it will still be in theaters through the award seasons January and February, and maybe even until March, we should wait to see how it does in the end (as of December 29 the film had grossed 22 million dollars in North America).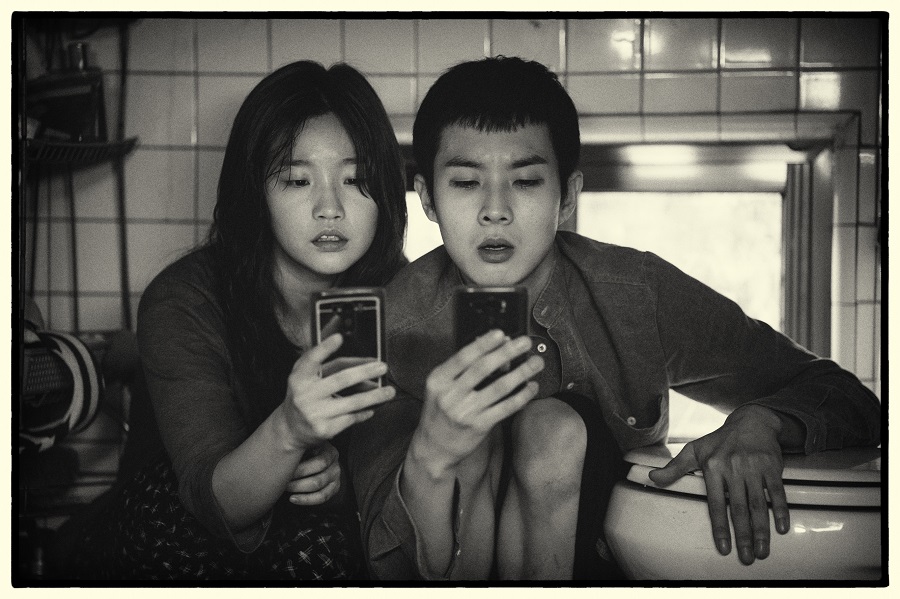 Q: We heard a black and white version of Parasite will be screened in the Rotterdam International Film Festival this January. You also produced a black and white version of Mother; why are you making this production?

A: There's no big meaning behind it. It's just rendering the film in black and white. Cinematographer Hong Gyung-pyo and I have a predilection for traditional black white films. It doesn't even cost much nowadays as postproduction is done digitally. Cinematographer Hong made the black and white version of Parasite last summer, controlling the contrasts and tone for each scene, and I went to see it from time to time.
You get a strange feeling from the black and white version. Perhaps film was like this back when everything was black and white. If I say anything more it will become standard so I will leave it to those who will see it. I think it will be a fun experience for film manias. In Korea, the black and white version will be screened at places like the Cinematheque early 2020 after the Rotterdam Film Festival.

Q: Could you elaborate on your fantasy about black and white films?

A: Black and white is beautiful. Among Korean films there are black and white masterpieces such as director Hong Sang-soo's The Day He Arrives and Gangbyeon Hotel(Hotel by the River), and I also wanted to make both color and black and white versions for a film like what the Coen brothers did with The Man Who Wasn't There.

Q: Are there some foreign black and white films that have stayed with you the most?

A: The depth of the picture and use of lighting in Akira Kurosawa's skillful work Red Beard was very beautiful, and the aforementioned The Man Who Wasn't There and the relatively recent Noah Baumbach's Frances Ha also convey beautiful density.

Q: The film Lighthouse was also a powerful black and white, screened at the Cannes Film Festival along with Parasite. It was very impactful.

A: If you see The Witch by the same director, Robert Eggers, you can already see something like the desire to film in black and white in the film's muted colors.
The protagonist of Lighthouse Willem Dafoe came to watch Parasite when it was screened in New York and also came to the party and talked with me and Song Kang-ho. He played a character resembling a grandfather from an old tale. The film's screen proportions were shot in 1.33:1, and the square-like film gives you a strange feeling. If the same work was filmed in color and in 2.35:1, it would have been a completely different film. It couldn't have given the same feeling even with the same actors and story.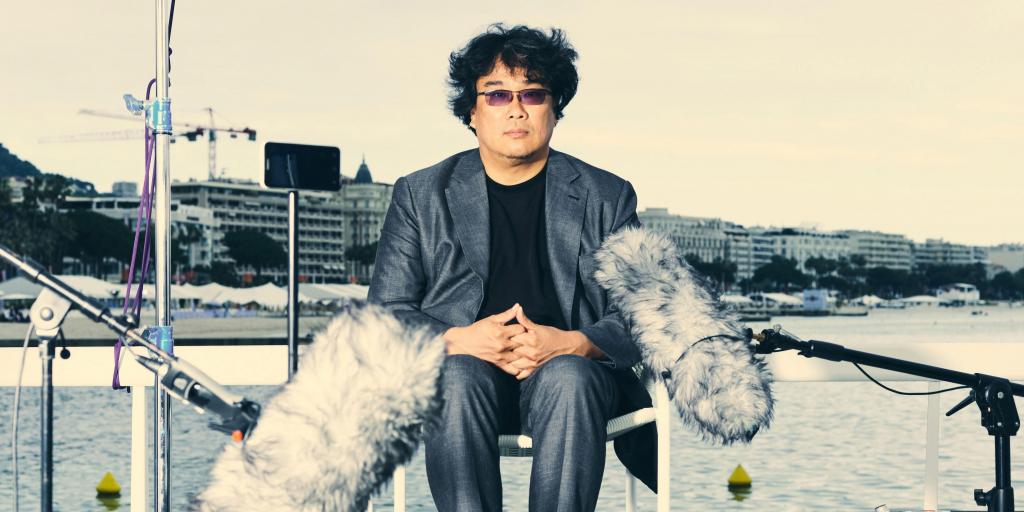 The Director-Grinding Oscar Campaign

Q: Parasite is one of the first films to participate in the race for the Oscars/Academy Awards.

A: Director Park Chan-wook's The Handmaiden could also have been nominated for the Oscars, but even though it won in the British Academy Film Award it didn't make it after various complications. Then in 2018 Lee Chang-dong's Burning was one of the ten films longlisted for the Oscar Foreign Language Films. My film Okja was not a Korean film but it was on the shortlist for visual effects. I think it's thanks to these previous advances towards the Oscars that such attention is given to Parasite.
There was a time when a Korean film competing in the Cannes International Film Festival was a much-desired event. After director Im Kwon-taek's Chunhyang first entered the competition, he was awarded Best Director for Chihwaseon, and now after directors Park Chan-wook and Lee Chang-dong have been awarded it is considered unusual if a Korean film is not competing in the Cannes. I hope that would become the same for the Oscars as well.

Q: The promotion campaign for the Oscars has been continuing for a few months, and it looks like extremely hard work.

A: If I talk about how the campaign has been since Telluride it would take at least four days to tell you how it was. And it's still going on…it's very tiring. It's a physical strain because we must visit many places and the schedule is very tight. When I went to LA after Telluride I met with Jeremy Kleiner, producer of the production company "Plan B" that also produced Okja. He smiled at me and said, "You're screwed this fall and winter." That is to say, "You're now forced to take the mound," or, "Parasite has been categorized as an award season film and you have to step up like a pitcher whether you want it or not."
Jeremy Kleiner has gone through many Oscar races as he produced films like Twelve Years a Slave and Moonlight. It is with this experience that he told me, "It will be extremely tiring. But you might find delight in meeting various artists in the process."
Before returning to Korea, Tilda Swinton hosted the preview party in London, England. Tilda previously won Best Supporting Actress Oscar for the 2007 film Michael Clayton, so I asked her over dinner if it's usually this tiring. She replied that the schedule wasn't as hectic during her time, and that the promotion campaigns seem to have gotten longer and more tiresome as of late.
I heard that when Roma entered the Oscar race Netflix spent a lot of money. You could film ten movies in Korea with that money. Both Song Kang-ho and I are bemused to see so many people spending astronomical sums in competition. They're films that have already been released, and some are even taken down from the box office, so how they are spending so much money to promote… I'm aware we're fellow competitors, but from an outsider's point of view it seems like a big fiasco to us.

Q: Are there any fun anecdotes from the promotion campaign?

A: The North American distributer for Parasite is a well-functioning organization made of intelligent people, but as they aren't big companies like Disney or Netflix, they're (pretends to turn a millstone) grinding in the director instead of funds… We conducted an immense number of Q&As. During the first week the film was released in the US we went to multiple places every day like some wandering theater troupe. I still feel faint thinking of the intense schedule back then.
I hear PTA(average income per theater) is most important for foreign independent films like Parasite. They can't compete against big films like Frozen 2, so art house film distributers scramble to increase PTA in small theaters. So there was no choice but for Song Kang-ho, Park So-dam, and me but to participate in many Q&As. I once even saw a rat in a theater. Seeing a rat run by the audience while responding to questions like mad was a surreal experience. I thought, "Wow, they're so immersed in the conversation that they don't even know a rat is going by."
As Jeremy Kleiner said, I did enjoy meeting with people. Ed Harris, who worked with me for Snowpiercer, came to watch Parasite after his theater performance and commended the film, reminiscing about the days we spent in the engine car. Directors such as Spike Jonze and David O. Russel also conducted Q&As with us. David O. Russel has a very unique worldview, and he offered many if his own eccentric interpretations and thoughts on Parasite. I also rendezvoused with Jake Gyllenhaal and Tilda Swinton with whom I made Okja. Those few enjoyable moments sustained me through the campaign.
But overall it has been a physical strain and a challenge getting over jetlag. Song Kang-ho even had a nosebleed during Telluride—ah, maybe I shouldn't talk about these things? He's of very sturdy constitution, and this was the first time in his life having a nosebleed. That film festival is notorious for being held in Colorado highlands 2200 meters above sea level; people take medicine against altitude sickness before going there. I don't know why they have a film festival in such a place, but that's the opening stage for all films running for the Oscars. I met Martin Scorsese(Irishman), the Uncut Gems team, and Noah Baumbach(Marriage Story) there. From then I suffered from jetlag and altitude sickness, going as far as to confuse people with others…so it was strenuous from the start.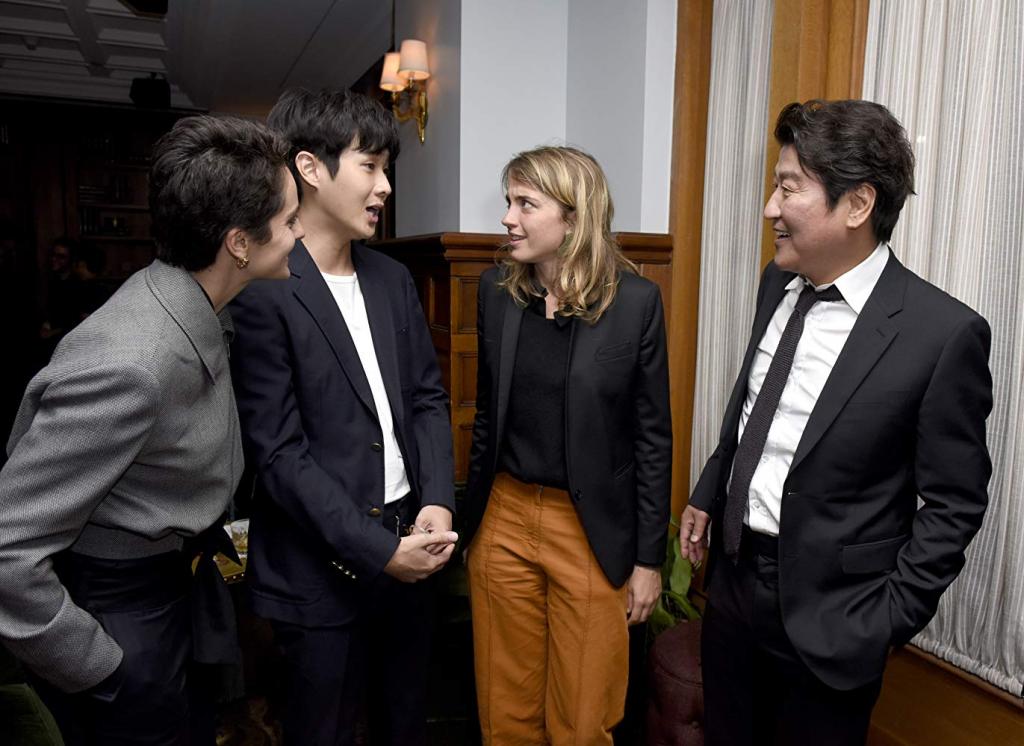 Obscure Oscar Affairs for the Outsider

Q: The ending song "Glass of Soju" was nominated for the Academy Award for Best Original Song shortlist. You wrote the song yourself. What do you think of the nomination?

A: The nomination came as a big shock to me and the North American distributer. It's being considered a formidable contestant in the production design and editing areas, and it's up on the Guild Awards The distributer is taking much care to promote it. But "Glass of Soju"…not even many Koreans know that song is in the film. Neither did many in North American Q&As hear the song, as we usually turned off the sound before the song due to time concerns. How they knew the song was there and voted I don't know…the Academy music category board must have picked the song, but I don't know how to consider the fact the music director's OST was not nominated instead. Our distributer interpreted the nomination as evidence for how positively the judges viewed the film.
Meanwhile the nomination for which both the North American distributer and PR team showed wild cheers of delight was the Screen Actors Guild's(SAG) Ensemble Award. The PR team was screaming and crying…almost like when we'd won the Palme d'Or at the Cannes. We were confused going, "What's the big deal?" I asked them why they were celebrating so and apparently of the 8000 people with votes for the Oscars not one is a critic. In other words, most of the Oscar voters are active or retired people of the film industry. These people are also active in other associations of their own like those for directors, producers, cinematographers, and so on, but SAG in particular has a large number of Oscar voters. So the film that receives attention from SAG carries weight in the Oscars.
From then on, the atmosphere of the campaign changed dramatically, talking about increasing the budget and whatnot. Only then did I realize the importance of the award, and it looks like the actors and I will be attending the award ceremony. It is the second foreign film to be nominated for the Ensemble Award in history, coming after Life is Beautiful(1997). The PR team had never expected this. So much so that the PR head had convulsions when he first heard of the nomination.

Q: Since the Cannes, you've been walking an unexplored path for Korean film directors.

A: I'm an ardent participant in the race but on one hand I'm asking, "What's with all the fuss?"… so I have a equivocal, divided perspective. Going "Oh they like all this," and, "Why are they spending money this way?" at the same time.
And we often meet with others in the race. We round the same events. Noah Baumbach, Laura Dern(Marriage Story), Ryan Johnson(Knives Out), James Mangold(Ford v Ferrari) and others, who were all really, roughly speaking, same old same old after a while. The same people kept meeting at events and were all awkward because we were competitors. It was funny awkwardly talking about when and where we would eventually meet again.

Eager to Resume Work as a Director

Q: This might be the pinnacle of your career since you began directing films. When you first wanted to become a director, did you think this kind of situation would ever happen?

A: It's my first time experiencing this, so it's enjoyable and fascinating but also alien and like a filmic tumult. What we're doing right now is not our main line of work for Kang-ho and me. My original work was finished when I finished with Parasite's post-production late last March. Afterwards not 0.1 second of the film has changed. Then all the fuss happened with the Cannes, France, the US, et cetera. I'm participating as a person who's involved despite physical demands; this is just a side operation, through and through.
Kang-ho himself is scheduled to star in director Han Jae-rim's film from February; everyone is waiting to return to their main occupations. Today's interview makes everything that happened until now meta so I'm enjoying it and I feel comfortable and refreshed talking I n Korean. Twice I felt mentally strained, in the US and in Japan each. After all, I have talked at over 450 interviews since the Cannes…after surpassing a hundred Q&As there was a time when everything just became blank. This event though is an interview about interviews so it's helping me mentally.

Q: You probably get similar questions for each interview.

A: 60-70% of interview questions are similar to one another. There was one unique interview with film enthusiasts in Austin, Texas, where I greatly enjoyed their original questions. And I sometimes realized things I hadn't been aware of before as I talked with professional film magazines such as Sight and Sound, Cahiers du Cinéma, and Kinema Junpo. Otherwise most questions—and answers to them—are similar. Hearing questions like "Where did you first get the idea for Parasite" for the nth time made me feel faint. Doing the same interviews over and over can become depressing, so I try hard not to be like that. Meeting and talking with directors like David Fincher are the enjoyable aspects of this work and they help me stay sane.

Q: You must really want to return to everyday life.

A: I actually wrote 20-30% of Parasite's script in this café where we speak now. I'm starting to write the next screenplay, but it's being stalled due to Parasite's promotion schedule. I'll be able to return to my main occupation come March, and I'm looking forward to it.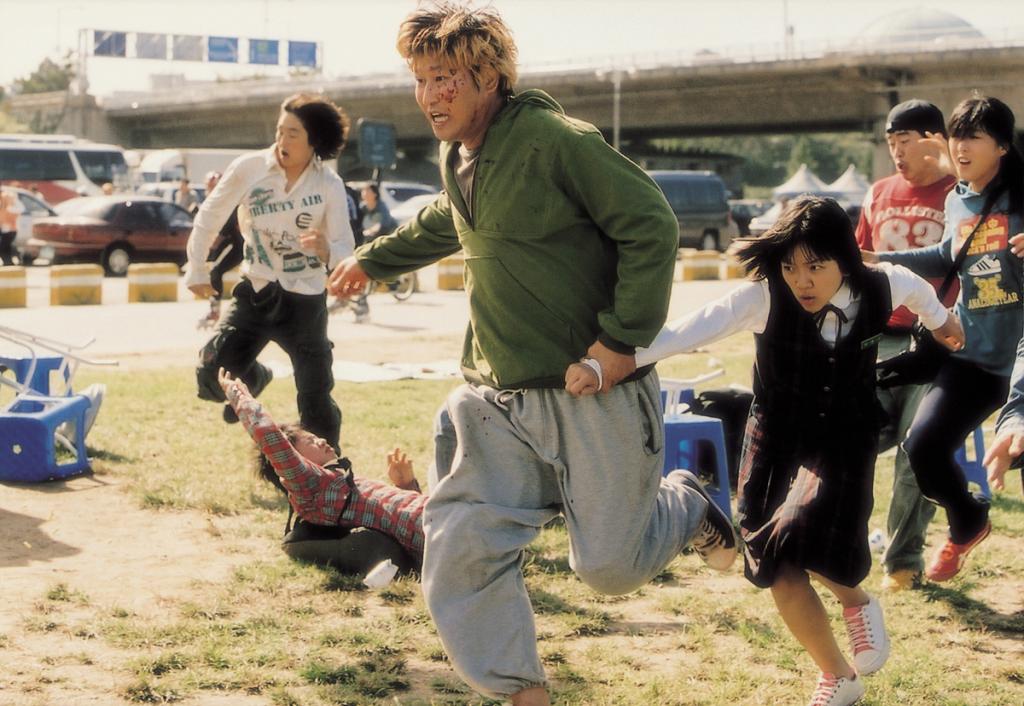 Struggles as a Director

Q: From the audience's point of view, you have been constantly successful since the commercial failure of your debut, Barking Dogs Never Bite. Were there any moments of despair or struggle that others know little about?

A: There were a lot of difficulties with CG for The Host. By Okja I had experience and had CG companies that were eager to work with me, but for The Host I had to go around proving that I could make a monster film like that. I technically am the client, but foreign visual effects companies didn't really know what kind of film Memories of Murder was.
Back then Korean companies told me they couldn't take the job, so I met with American or European companies. I was distressed at how high the budget was for this film compared to previous projects. But I couldn't make the film without CG, and the actors were waiting as the production for the film had already been announced—I almost wanted to die back then. I managed to strike a deal with the American company "The Orphanage" and evade further complications but that process was extremely difficult.
After Barking Dogs Never Bite finished casting and was about to commence shooting, some problems arose that nearly aborted the entire production. I remember me and the directing team crying as we cleared the office. CEO Cha Seung-jae said that we could cast Lee Sung-jae, an outstanding actor, but had to cut our budget. So we reduced the production budget from 1.1 trillion won to 950 million, even cutting what little there was for my salary. So we casted Lee Sung-jae, Bae Doo-na, Go Soo-hee, and Kim Roi-ha and narrowly managed to film it.
There's a certain feeling you get packing up after giving up a film. All directors will know this: the forlornness that comes cleaning your desk after a long period of preparing for a film. Barking Dogs Never Bite was thankfully saved, and as none of my other films have foundered I have luckily been continuing my life as a director.

Q: Were there any such problems during Parasite's production?

A: The production of Parasite was very smooth. I wrote the screenplay enjoying time for myself at Vancouver and cafes like this one over a period of three-and-a-half to four months—the shortest time it has ever taken for me to write a screenplay for a movie. And two years ago—late December of 2017—I handed over the script to production company Barunson's CEO Kwak Sin-ae and Song Kang-ho. After that everything proceeded in lightning speed.
There were also four months of fruitful preproduction during the record-breaking 2018 heat waves. Luckily most of it was shooting on set, and when we were shooting in the rich house everyone fled to the air-conditioned living room. We would cool off before the air conditioning, have lunch, and resume filming in the afternoon.
In addition, Barunson and our distributer CJ provided sufficient resources in terms of shooting rounds and budget, so we were able to finish pretty much on schedule. Postproduction also ended with ample time, without clashing with the release date or the Cannes schedule. There was no pressure at all. There was great teamwork among the cast. Cinematographer Hong Gyung-pyo and I had already faced death together as we filmed Snowpiercer in the Czech Republic. Art director Lee Ha-jun and the other staff were also focused on the work and enjoyed the process.
I think the rain scene must have been physically demanding for the actors. Song Kang-ho especially is sensitive to the cold. The rain scene was filmed in June before the heat wave. The scene where Ki-taek's family walk through the rain at night was filmed in various parts of Seoul over many days. They even had to film the flood scene at the end in a large tank set, so they would have been physically exhausted.
We made Ki-taek's house and the surrounding alley in a big water tank, which also didn't present many complications thanks to meticulous preparations by art and special effects teams. While shooting I wore a diving suit and was in the water all day with the actors. On screen it looks like dirty water, but we made it murky with mud face packs, so the water is actually good for your skin. Anyway filming two or three times there while wading through the water must have presented the biggest struggle for the staff in this production.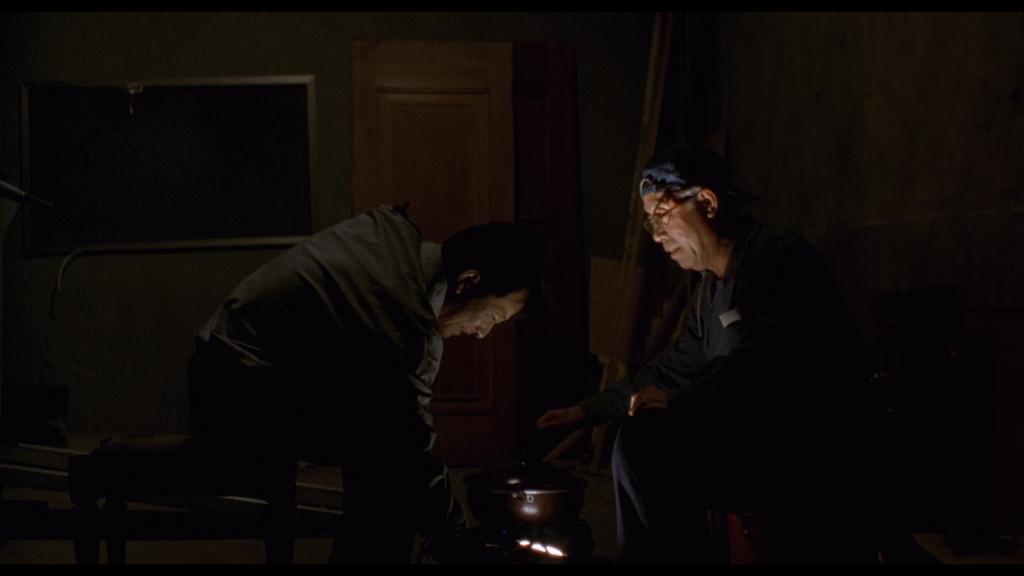 Moment of Fascination with Underground Space

Q: In Parasite there is a semi-basement and basement, in Memories of Murder there is a basement interrogation room, and in The Host there is the monster's lair; dark underground spaces keep appearing in your productions. Why do you constantly set these spaces?

A: You are correct. There's a lot of discussion about how Parasite is perpendicular and Snowpiercer is horizontal, but even Snowpiercer features a space under the floor where the child is. The short film Incoherence I produced before making my longer debut work was filmed in the underground space of the apartment where I lived. The basement scene of Barking Dogs Never Bite was also filmed there. Why do I keep filming such scenes?
I've thought about this myself. When I was in fourth grade, I moved from Daegu to an apartment in Jamsil, Seoul, when a friend took me down to the apartment basement to play ping pong. Playing ping pong in a dusty, dark basement gave me a strange feeling. The place was different from the apartment houses above, as it connected the different rooms and houses to make a large, open space. The security guards had picked up usable electronics and furniture the residents had thrown out and had refurnished that tunnel-like space to serve as their resting area. I faithfully reproduced the place in Incoherence and Barking Dogs Never Bite. Like how Byun Hee-bong puts his running machine in the basement to exercise. The recreation of a household using the stuff abandoned by the middle class appeared symbolic to me despite my young age.
Geun-sae in Parasite also created a household in the underground bunker. In addition he studied for the state bar exam there. Even if the exams have long since disappeared and incorporated a law school system instead. That makes it even more sad. Like the people in Emir Kustrica's film Underground, who continue to live in the basement, not knowing the war is over. From Geun-sae's point of view it would have been more convenient to think "this is not someone else's basement, it's accommodation to study for exams." I didn't try to express all of this in the film, but I discussed with the art team and put state bar exam books and pictures of great men Geun-sae liked. We called that "Geun-sae's Hall of Fame," which included basketball player Park Chan-sook, former president Kim Dae-jung, Nelson Mandela, marathoner Lee Bong-ju, CEO Park who Geun-sae "respects," and so on. We also hung a suit there on purpose, to indicate Geun-sae's hopes of wearing it to go above ground. Although sadly that won't ever happen. I aim to not film such things anymore. Neither will I film basements.

Q: In the first scene of the first episode of Incoherent the professor ascends some stairs. I wonder if the symbolic representation of stairs in Parasite and the film's basic structure have developed from there.

A: I don't know why I filmed the stair scene. It's the stairs at Yonsei University that lead up from the main auditorium to the college of music. I wasn't trying to imbue any meaning but was trying to find a quiet place with the atmosphere of a daydream. I just saw the film again as the Korean Film Archive said they are restoring the film, and it's a really weird film. It makes you ask, "Why did they film this thing?"
After the dreamy introduction the professor sends his TA to his office on an errand but realizes belatedly that he left a pornographic magazine there in the open and starts running there like mad. A scene running upstairs appears there as well. I wasn't trying to approach the concept of stairs in a particular way while filming that.
Meanwhile the symbolism in Parasite was so strong that we called it "the stair film" amongst ourselves from the start. Once while talking with Song Kang-ho I joked, "If we roughly summarize the film from Ki-taek's perspective, it's a story of a man who tries to ascend the stairs and ends up descending them." To his descended father Ki-woo says, "You just have to come upstairs. I will buy this house." But that seems impossible. I haven't counted how many scenes in the film feature stairs, but it'll be fun to check. There probably is a lot.

Q: Aren't there also circular descending stairs leading to the underground interrogation room in Memories of Murder?

A: That space is not an official interrogation room but a boiler room. I referenced the boiler room from by old school, Jamsil High School. As a high school student—why did I go there again? I think our drill instructor told me to get something from there. It had a peculiar structure: a deep basement with steep and narrow stairs. Documents from the Hwaseong serial murders state that as the local police station didn't have an interrogation room, they took suspects to inns or the detective's own house for interrogations. So I chose the boiler room.
In Mother, stairs aren't featured constantly but the corpse is hung like a piece of laundry on a room to which all the townspeople can look down, and there is a scene where all the houses on the hill appear to look down upon the body. It's a place whose structure resembles the amphitheater in Athens, and with a rainy scene in which Kim Hye-ja runs into that place, the story begins to flow in a new direction.
That scene was filmed in Munhyeon-dong, Busan—another strange place. It was a graveyard during the Korean War but became a residential area as refugees settled there. It was extremely difficult to find that place. The directing team even went to Ulleungdo trying to find a suitable location like that one. Although that venture wasn't a complete waste of effort as they found a useful location for the old junk shop owner's house. The burning junk shop was originally an abandoned rice mill.

Okja is a story that starts from a mountaintop in Gangwon-do and crashes down to the Hoe-hyeon underground mall, so it featured more hills than stairs.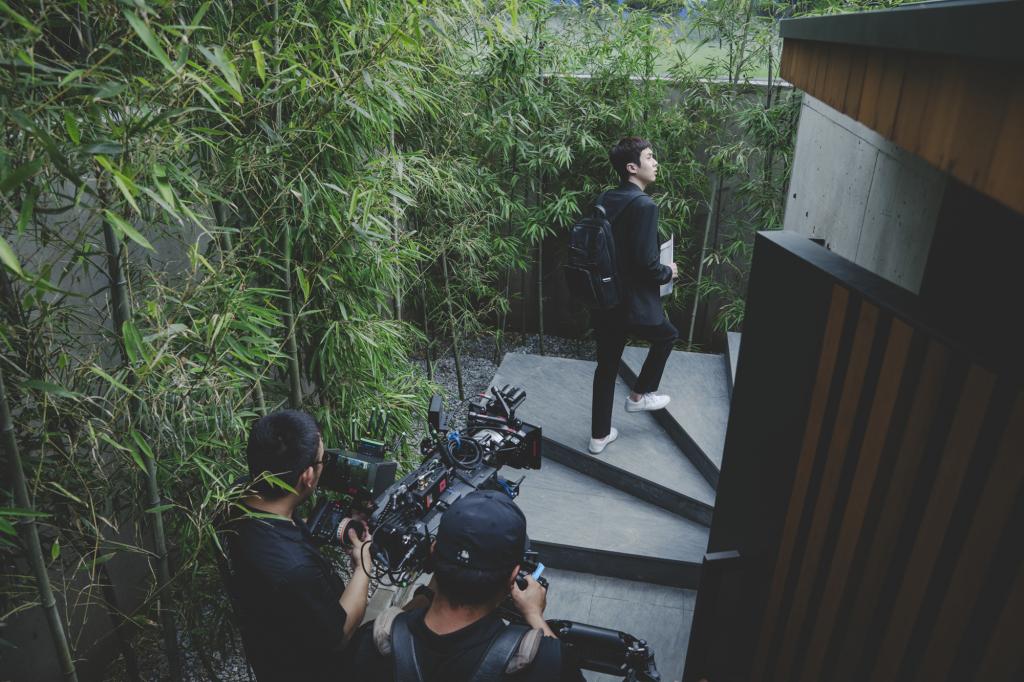 No More Stairs and Basements

Q: Stairs in Parasite seem to bear similarities to Kim Ki-young's Beasts of Prey and structures of western houses from 60-70s Korean films. And they're also reminiscent of Claude Chabrol's A Judgment in Stone(1995).

A: I like all the directors you mentioned. A Judgement in Stone is a modern adaptation of the case of the Papin sisters, a shocking incident where two sisters and maids suddenly and brutally murdered their employers. I thoroughly researched the case while writing the script for Parasite.
Kim Ki-young's Beasts of Prey is a remake of Insect Woman, whose shocking visuals of the basement scene left a deep impression on me. Kim Ki-young's films are typically set in the 60s or 70s, and in that era, having stairs in your house was something to be immensely proud of. It meant you were rich and living in a two-story western house. Stairs don't seem to be as much of a symbol of wealth today. Apartments are mentioned more often, and instead the expression "ladder between classes" is used often. In any case, the concept of stairs and ladders persist, so I wanted to visualize that in the film.
Also, I like how stairs feel when light is shone on them due to their joined parallel and perpendicular sides. They seem to have an inherent dramatic aura, as they look different when viewed from above or from below. The cross section of stairs in a building under construction from Vengeance is Mine was also deeply impactful, so for Parasite I discussed with the art director and made it so the stairs in the rich house had a cross section as well. I also referenced extensively the house in Roman Polanski's The Ghost Writer. There is a very minimalist staircase there, perhaps because the idea of emptiness is central to the film.

Q: Normally when you look at stairs you unconsciously imagine rolling down them. When someone rolls down a set of stairs in a Bong Joon-ho film, it's almost as if it shifts genres to become a horror film.

A: Now that you mention it, it's plausible. Even in Parasite the gates of hell open as Moon-gwang descends the stairs.

Q: Some American fans consider Parasite as a horror film.

A: Some film critic associations consider it "best horror film of the year." I welcome this perception. I consider myself a genre film director. I welcome categorizing Parasite as a horror or thriller film.
After Moon-gwang descends the stairs, there is a minute or two before hell breaks loose. Chung-sook is waiting outside, Ki-woo is telling her to go down, and all this time the rain is pouring. I love the few minutes just before the terrible truth is revealed.
In 2015, I twisted my right foot while going downstairs from the Okja production office stairs, dislocating my ankle and rupturing a ligament. It hurt immensely, but I kept laughing hollow laughs. I was in a wheelchair for two months afterwards. Never again will I film a scene where someone rolls down the stairs. I'm done with basements and stairs. None of that for twenty years at least.

Q: Your films featuring descent and stories that unfold in that damp underground space at the bottom are immensely captivating. I would be sad to see them go.

A: Well, I can't film those forever. I've done enough of them so it's time to stop. The most somber scene in Parasite is when Ki-woo slowly lugs the stone to the basement. He doesn't have the mettle to kill someone, whether he thinks everything is his fault or not, but he still proceeds downstairs, step by step. After a shot featuring Ki-woo's perspective looking downstairs from above, he loses his grip on the stone. The stone rolls downstairs first with a loud thud. The next shot is as if the stone is looking up at him instead, as Ki-woo, the intended criminal, becomes the victim of terror. Even before shooting I expected that scene to be the most genre-like moment in Parasite. I think both cinematographer Hong Gyeong-pyo and I looked forward to that scene. Hong Gyeong-pyo was ecstatic when filming the scene where Ki-woo is dragged by the wire around his neck. Though I can't say the same for Choi Woo-shik.
If the space in that scene was not a straight, dark bunker, would Ki-woo have even imagined what he intended to do? I think it was the nature of the space that Ki-woo thought what he did, and that is the power of space that film can have. And a bloody Geun-sae, holding a knife, madly rushes out of the dark to step out shyly into the sunlit birthday party. I filmed all the things I wanted to, so I don't think I have to film underground spaces anymore.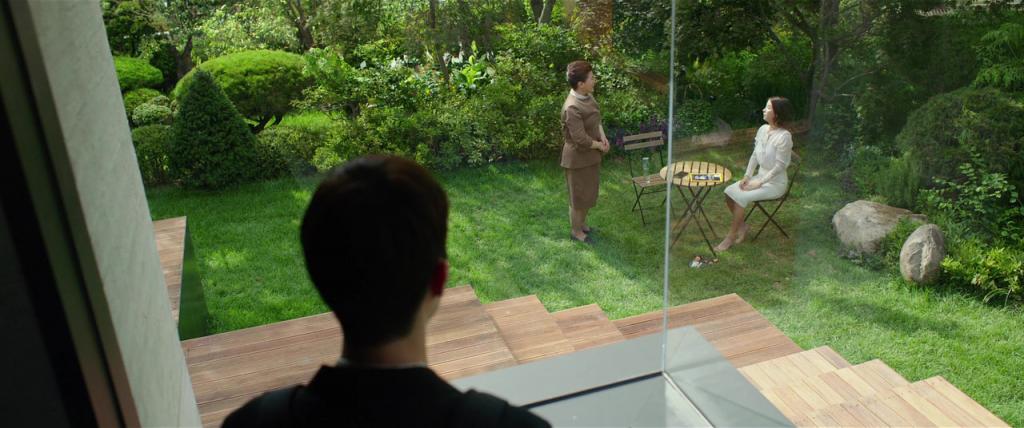 Black Comedy and Subversive Thriller

Q: When you first interviewed with Extreme Movie you said that there will be no reunion between the future bourgeois Yun-ju (Lee Sung-jae) and plebian Hyeon-nam (Bae Doo-na) (https://extmovie.com/article/51450). So why did you decide to have the two economically polar opposite families meet in Parasite?

A: In Snowpiercer Chris Evans also proceeds to the front to meet Ed Harris, but that film is science fiction and features foreign actors, so there was a certain distance from ourselves. Parasite was a story about a poor family and a rich one from the moment it was conceived. A candid story about a rich friend or poor relatives you could have in real life.
Hyeon-nam from Barking Dogs Never Bite could come to resemble Parasite's Chung-sook with time, and if lecturer Yun-ju launches an IT venture he could become like CEO Park. I wanted to have them meet, but this time the mode was more complex. A poorer person emerges, and the meeting itself is such an awkward/embarrassing one that those involved can smell each other. They meet as tutors, a housekeeper, and driver, the only occupations in which the wealthy will approach a poor person enough to smell them. Usually they walk completely different paths.
In such relations, the wealthy adopt a very equivocal stance. They can drive and do the dishes, but they buy others' labor because they don't want to do the work themselves. But in order to make others work you must allow them to cross over the line and approach you. Although they permit physical proximity—despite their dislike—they still desire a psychological and emotional barrier between them and the others. That's why CEO Park keeps talking about "the line" in the film.
When I first devised Parasite I asked a rich college friend whether they had tutors for their children, a driver, and a housekeeper. They replied in the affirmative, and when I asked, "How would you feel if they were part of your family?" they screamed. By that reaction I could tell the story would be effective. It seems that the wealthy like employees to come to their homes to do work for them but have immense allergic reactions to the idea they are family.
At first, I considered narrating Parasite from the rich family's perspective. Now it's a process of Ki-taek's poor family infiltrating the rich family, but flipped it would have been a subversive thriller or horror film about a peaceful, wealthy family employing people with obscure identities one by one.

Q: The maid in Luis Bunuel's Diary of a Chambermaid doesn't consider stealing her employer's wealth as a crime, bur rather as something she is entitled to have. Joseph Losey's film—mentioned often in interviews about Parasite—features a subversive line: "a person has a right to steal in order to not starve." The behavior of the two husbands in Parasite perhaps originates from such differences in ideology. One blindly respects CEO Park, while the other doesn't consider the harm he inflicted upon CEO Park a crime.

A: One of Lee Jae-eung's lines in The Host is, "This isn't robbery, but a seori(Korean, meaning "—a right of the poor." I think it's along similar lines. The poor families in Parasite are considerably shameless and geniuses at self-justification. Like the line, "I'll go to this university next year." They don't have the shame from deceiving even as they practice deception.
At the same time, they don't harbor universal animosity to the wealthy. They don't even try to steal from the Parks. They just receive money for the work they have done. Apart from the fact they've hidden the fact they're family and impersonated a prestigious college student, it's hard to say they committed evil deeds. Ki-taek even feels sorry and starts crying in less than three seconds after killing CEO Park.
Much of the film is spent featuring fights among the poor. That is the comedic tragedy and black comedy. Geun-sae and Moon-gwang offer solidarity as fellow unfortunate people, but Ki-taek and Chung-sook try to separate themselves from the others claiming, "We are a semi-basement while you are the basement." They acted more hostile out of fear of descending completely into the basement.
Without the climax where Ki-taek stabs CEO Park, the whole film is a heated fight between the poor. The absence of solidarity among the poor and the weak leaves a bitter taste, but I felt that was a frank portrayal of our modern society. It has become too complex for us to unify.

Q: This is your first realistic black comedy since Barking Dogs Never Bite; you've come full circle in 20 years. But the ending to Parasite was more depressing than those of Barking Dogs Never Bite and Snowpiercer. You showed a fantastic scene of hope right before ending with the cold reality of the semi-basement. Is this because you think reality has become more depressing in the last 20 years?

A: I wasn't thinking of that as I made the film, but upon looking back I will say that society has become worse than 20 years ago. In Barking Dogs Never Bite there was evidence of the IMF, as the crisis broke out in 1997 while the screenplay was written in 98' and filmed in 99'. Many say that no other event has defined Korean society as much as the IMF since its occurrence, and if one should say the financial crisis' fixation upon society manifests in Parasite I don't want to deny it.
In the ending for Barking Dogs Never Bite, Hyeon-nam is fired from the management office but is in a forest filled with sunlight, and Yun-ju is blocked from the sun. Looking back now it's such a direct display that it's embarrassing but the ending of Parasite seems to be a repeat of that ending. When Ki-taek comes up the stairs and crosses to living room to hug Ki-woo there is much sunlight streaming into the scene—an intentional choice. When the camera descends you see Ki-woo spending the wintry night in the semi-basement. Even if the ending was a clash between sunlight and darkness like in the ending for Barking Dogs Never Bite, the frustrating and melancholy ending realistically reflects the modern era. I didn't intend to cause discomfort, but if I lathered on honey or salt trying to avoid discomfort, I would have made the audience angrier, so I tried to create an honest ending.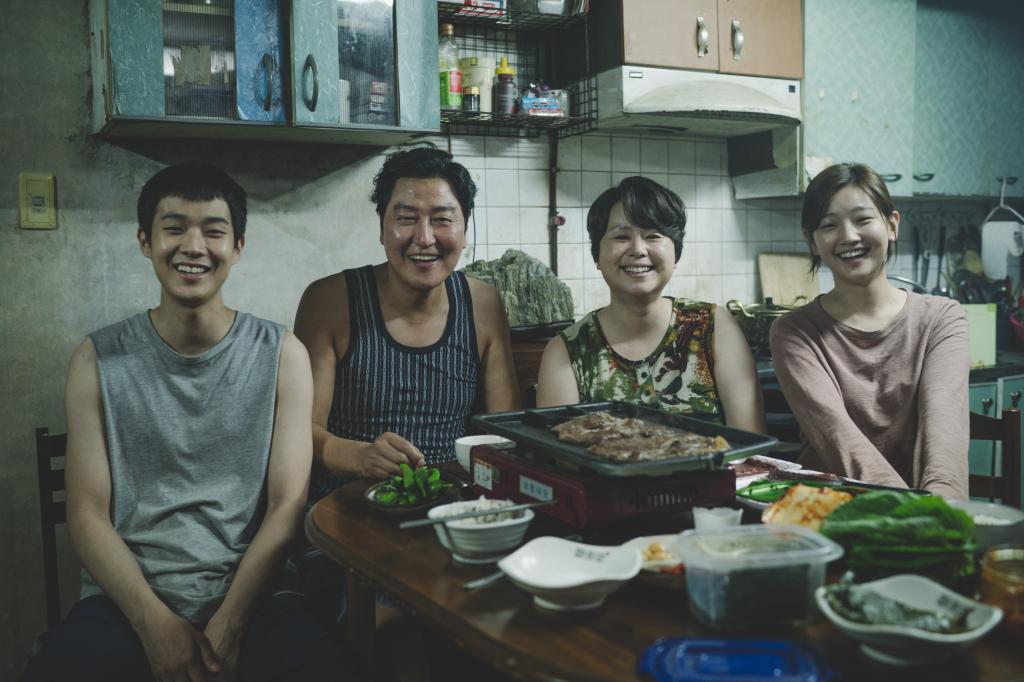 Q: Apart from the abnormal maternal love portrayed in Mother, almost none of your films feature mothers. But realistic mothers suddenly appeared in Parasite. Why have you decided to show normal mothers for the first time in 20 years?

A: That's because I've only made seven films so far. Upon hindsight there really were no mothers. Omission of the mother in The Host was intentional; only in the absence of a mother over two generations will the family members become stupid. Usually the mother is the most realistic and intelligent in a family, so if family members are to cause idiotic chaos the mother must be absent. They wouldn't do such things in the presence of their mother.
Broadly speaking there are three mothers in Parasite, as Mun-gwang acts as Geun-sae's mother, feeding him with a baby bottle and all. On one hand, there is also a strange side to each mother. Yeon-gyo obsesses over her son but never physically touches him, much less give him kisses and hugs. The real mother for Da-song—an intentional choice—was Mun-gwang. So when Mun-gwang was fired we filmed so that Da-song appeared to be lonely. Chung-sook appears to be a tough wife, but when she is drunk, she declares, "Money is an iron that smooths out wrinkles. If I had money, I would be nicer," and thereby reveals her distorted worldview.

Q: On a Reddit chat you said you would invite Hitchcock, Martin Scorsese, Yuna Kim, and Kevin De Bruyne to your last supper. The comment was a major topic of discussion among Yuna Kim's and soccer fan communities.

A: That exchange was entirely improvised. I like Kevin De Bruyne because he seems to play soccer in a creative, beautiful manner. I also like his face: simple, like that of a Belgian baker's son.
I like Yuna Kim because she is a person who overcame a great burden. She must have been very stressed as she was skating right after her competitor Asada Mao, but she stepped onto the ice without any apparent concern. I think there is a cruelty in the sport of figure skating. You need to perform immense feats of skill and strength upon ice wearing skates in which normal people wouldn't be able to stand properly, and you need to flawlessly present four years of preparation in one demonstration. I saw her program in a New York hotel room while on a promotion campaign for Mother. It was a shocking moment: 19, 20 year-old Yuna Kim's expression when she broke through the pressure. As a director I observe minute expressions on actors' faces as an occupation, and I noticed how different her actions and expressions were before and after the performance. When she relieves herself of her burdens and obtained the gold medal without question—that scene was magnificent.

Q: Last but not least, could you say a word for your many fans at Extreme Movie and elsewhere?

A: I go on the Extreme Movie webpage often. There's a lot of good information, and I am bemused by articles and pictures that you have on foreign events I attended, often wondering how you found them. That seems to be a strong point of the community. It's also a place where film gets most appreciation.

Even the Cannes, where you stand on a red carpet in blistering heat and an uncomfortable tuxedo and wonder "What am I doing here?", is meaningful in that it is to appreciate film. When you first see the product of someone's hard work and applaud as they come onstage in formal attire, you truly feel film is receiving respect.
Recently many people have probably watched Irishman on their cell phones—in split intervals because their friends' phone call interrupted the film—it's giving director Scorsese nightmares—in this kind of age, I am thankful places like Extreme Movie exist where film can be respected.